Coronavirus Notice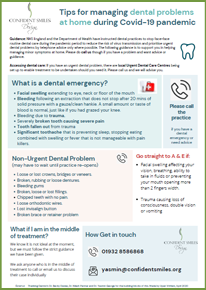 At present, due to the risks of Covid-19 transmission, all dentists have been advised to cease all routine dentistry.
As a result, Oatlands Dental Lounge, Dr Yasmin George's Surrey clinic, has temporarily closed.
This is to minimise risk to patients and staff, and their respective families.
If you have an appointment booked between now and the middle of May, Yasmin will be in touch to rearrange this to a later date.
Yasmin is concerned that some of her patients will be anxious about what might happen if they have a dental problem or emergency during these unprecedented times.
Looking after the health of her patients remains Yasmin's absolute priority, and so you may find this pdf download "Manging dental problems at home" helpful.
Oatlands Dental Lounge will be operating an Emergency Telephone Consultation service for their patients during this period of closure, and you will be able to get in touch with your dentist.
If you urgently need assistance, please call 01932 858686, the team will be working remotely, to return your calls and ensure that Yasmin can personally discuss the problem with you.
Dentists have been advised that urgent dental care will be available at designated centres, where the staff and clinicians have access to enhanced protective equipment.
The exact details are not quite clear as yet, so please do contact Yasmin in the first instance, she will do her best to help.
Stay safe and well, Yasmin looks forward to resuming normal treatment for her patients as soon as it is safe to do so.