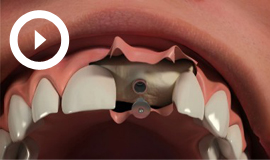 If you suffer from a missing tooth, multiple missing teeth, or even have trouble with loose dentures, there are solutions here at Confident Smiles to help.
What is a dental implant?
A dental implant is a titanium screw or cylinder used to replace the root of a natural tooth. It can support one or more false teeth.
Just like a tooth root, it is placed into the jawbone; it is made of titanium because this metal has the unique property of being able to integrate very closely with bone and so produce a very stable base for replacement teeth.
A dental implant usually has some form of internal screw thread or post space that allows a variety of components to be fitted. Once fitted, these components or abutments, provide the foundation for long-term support of dental crowns, bridges or dentures.
Can Dental Implants replace a single missing tooth?
Losing a tooth can be devastating. You can feel self-conscious and suffer a lack of self-esteem.
But your tooth could be replaced quickly and easily with a dental implant.
A dental implant is a small titanium screw that integrates perfectly into your gum tissue, just where the root of your tooth would sit. Here's how it works:
The screw will be surgically placed directly into your jaw by your dentist. Its shape and material are optimal for close contact and ultimately fusion with bone, providing maximum stability later on. This is usually done with local naesthetic and is therefore a painless procedure.
Depending on the condition of your mouth and jawbone, the implant 'abutment' (the crown or bridge that fits onto the screw) may be added immediately after the screw is inserted, or sometimes it may be added at a later date.
Either way, there will be some healing time. The screw will slowly mesh with the bone, becoming a natural component of your jaw. Once restored with a crown the implant tooth will blend in perfectly with your natural teeth in colour and shape.
Your implant will look and feel exactly like a normal tooth: no one will ever know, and even you might forget!
You will still be able to bite and chew normally, and the bone in your jaw will remain intact over time.
Life benefits:
A beautiful, natural smile that is all your own.
The reassuring knowledge that your implant will last you a lifetime if properly cared for.
Full function restored, which means freedom and quality of life for you.
Bone density will be maintained and so will the integral structure of your face.
Dental Implants for Several Missing Teeth
If you have lost multiple teeth, you may be wearing a denture or partial denture. This can be a real burden, causing embarrassment, discomfort and generally having a real negative impact on your quality of life. Did you know you don't have to eat soft foods or wear dentures for the rest of your life? Implants are a viable and clinically proven alternative to missing teeth.
Multiple teeth can be replaced with just as few as two implants. Two implant screws can support a 'fixed in' bridge of up to four or five teeth in a row, each stable and sturdy and guaranteed for life with good hygiene and maintenance.
Depending on the volume of jawbone, a dental implant and abutments can be placed on the same day or over a period of months. The implants will look and feel exactly like your natural teeth.
After a period of healing, your implants will be fully integrated and will look, feel and function just like natural teeth!
Life benefits:
If missing teeth are not replaced with implants the jawbone will recede, giving your face a sunken appearance. Implants give you a youthful boost.
You can bite or chew a variety of foods.
You can live free of worry and concern about your teeth.
At Confident Smiles, we can explore all treatments that will be right for your dental needs. If you would like to find out more about Dental Implants, or any other treatment, please get in touch.