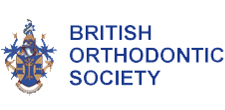 A number of systems of braces have been designed to correct relatively minor misalignments of the upper and lower front teeth, as quickly as possible, and to be as discreet as possible when worn. These include:
Invisalign:
your dentist takes impressions of your teeth which are used as the basis for a computer-generated 3-D model. The Invisalign computer then simulates the tooth movements required to move from this model to the desired end result and controls the fabrication of a series of transparent plastic Invisalign aligners which fit closely over your teeth and cause these movements to occur gradually.  
The aligners are worn for at least 20 hours per day; after two weeks wearing the first aligner, teeth will move to the correct positions for you to switch to the second aligner, and so on through the sequence. 
The aligners are practically invisible and have the advantage that they can be removed to eat and clean your teeth.
Inman aligner:
less discreet than the Invisalign aligners, the Inman aligner uses a coiled spring that sits behind the front teeth and provides a "pushing" force; and a metal bar across the front of your front teeth which provides a "pulling" force.  The two are fixed to a transparent acrylic casing which fits over your teeth, and the metal components between them squeeze the teeth into the correct positions.
The aligner is worn for 16-20 hours per day and treatment times can be as short as several weeks.  It is removable for eating and teeth cleaning.
6-Month Smiles:
This system of braces focusses only on those teeth which show when you smile, and uses clear brackets and tooth-coloured wires which are very much less noticeable than conventional braces.
Lingual braces:  
Unlike conventional braces where the brackets and wires are fixed to the visible front surface of your teeth, lingual braces put all the metalwork on the inner surface of your teeth, meaning that none of it can be seen at all. The brackets and wires are specially designed to be light, small and comfortable and not interfere with your speech.